What is cladding on a bridge?
Occasionally we are asked to make a bridge with steel beams look like a timber one.
It Surprises us how people feel galvanized steel finish is out of place in the countryside. virtually every field gate and kissing gate is galvanized.
We don't have these feelings as Engineers.
Ever eager to supply what our clients want, we naturally conceal the beams. This process is called cladding.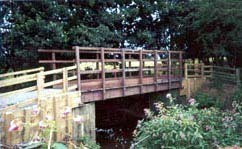 in order to inspect the bridge, the cladding needs to be capable of being removed.
This can be a costly process involving scaffolds and the disturbance of wildlife (bats).
Bridges can be clad in hardwood or softwood or in high quality exterior Pli-wood.